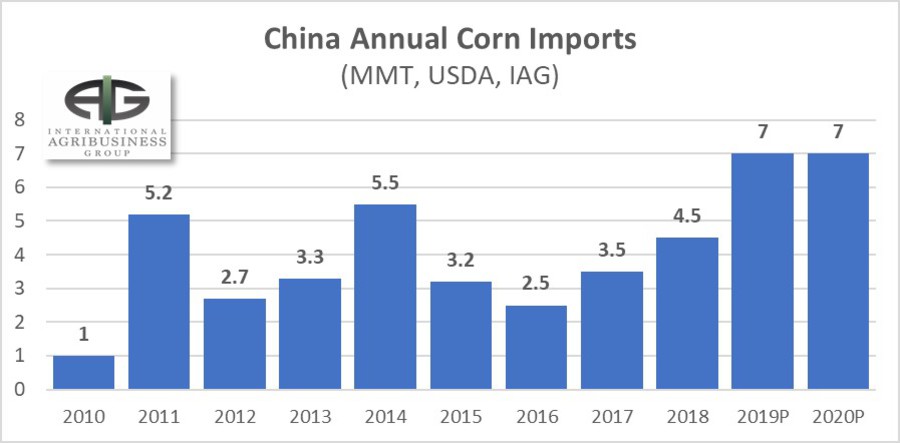 Will China Change the Corn Market?
China just made the largest weekly corn purchase, what's next?
It is easy to believe China will become a significant corn importer. It is possible they will import enough corn to alter the world price of corn, but I don't believe the odds for their buying is different than any other year.
Today's indicators – what has traders believing we are close to significant Chinese buying.
- Chinese corn prices are the highest since 2015. Dalian futures are $300/MT, $150/MT over CME.
- Weekly auctions of 4MMT are fully subscribed.
- Soy demand indicates that Chinese feed – including corn - demand has recovered from ASF.
- There is a Phase 1 trade deal.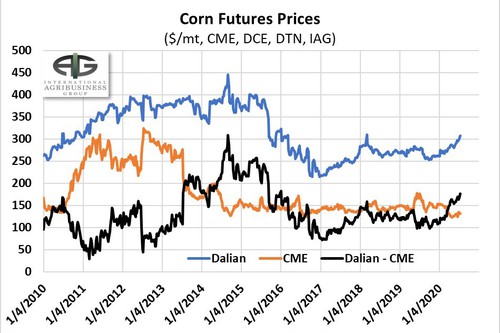 A Dose of Reality:
History indicates these factors don't lead to large Chinese buying, Nothing in the past has lead to significant Chinese corn imports. Record Chinese corn imports were 5.5MMT in 2014/15.
The factors above have been present in the past.
- Dalian futures were $350-$400 from late 2011 into 2016, the spread to CME was $200-$300 in 2014 and 2015 – both higher than current values.
- In 2018 from April to November China auctioned 100MMT corn reserves, 3.5MMT/week.
- Feed demand as indicated by soy usage is similar to the peak levels of 2017 and 2018.
- Phase 1?
- Add: Total Ukraine and Brazilian corn production are 30MMT higher in 2020 than 2014.
Sidenote: In November of 2018 after auctioning 100MMT of state reserves, China adjusted prior production and stocks, adding 280MMT – the equivelent of one crop - to Chinese corn stocks.
Why does China import corn? Importing 7MMT of corn is meaningless against an annual turnover of 270MMT. It's likely the imports are either just to satisfy WTO, or for logistics reasons. Supply concerns are unlikley the reason for prior imports.
I believe the Chinese have relatively good knowledge of their corn stocks and they seem to hide stocks for a non-rainy day. They set the TRQ for 2020 at 7MMT at the beginning of 2020. Have they suddenly found out that corn supplies are tight? Are they giving up on their 2020 crop already? Are supplies suddenly so tight that they couldn't incent more acres in 2021 to solve a large portion of the problem?
The CME corn price is carrying a premium for potential Chinese buying. Believe it when you see it, don't build a buying or selling decision on Chinese imports. If China is going to import corn, it will be a result of factors we haven't experienced before. Therefore, Chinese buying is unpredictable.
Maybe we can sell them wheat or ethanol. Larger soy sales are a better bet.
Thanks for reading. Comments welcome.