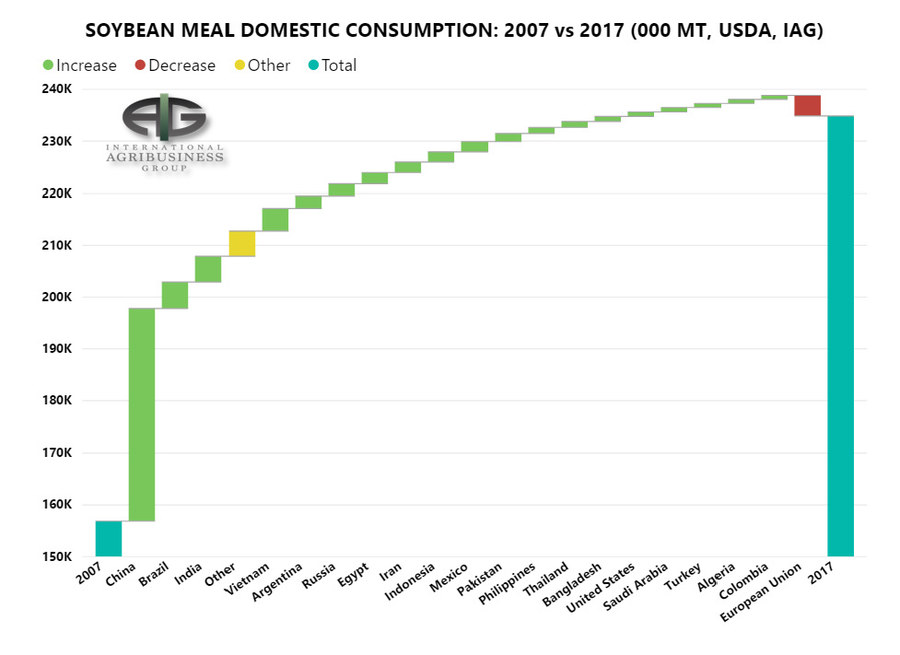 Why Does WAOB (USDA) Perennially Miss Soybean Demand
Every year for the last four, 2013-2016, WAOB has underestimated the world soybean demand by an average 11 mmt or 10%. Why is it so hard to get the demand side right? All that is needed is to guess China, right? Well, that's the problem. Much of the growth is outside of China, Europe, and the US. Over 40% of the growth in meal usage in the last 10 years has come from places like Vietnam, Bangladesh, India, and Mexico – see chart above. This is not good news for meat exporting countries like Brazil, the EU, and the US. Tracking all those pieces is a difficult task. The other factor making the guess difficult is estimating supply. Available supplies have grown at higher than trend rates the last three years. There seems to be an unquenchable thirst for soybeans. "Grow them and they will get eaten". As a side note, WAOB has already raised the 17/18 usage after only three months of estimates.
Here's a simple solution: first, assume we will produce more because we usually do; second, take the first estimate and add 10%, or use an average demand growth of the prior years. The average demand growth for the last four years is 26mmt. The WAOB estimate for 17/18 has demand growing 18mmt. Look for more upward revisions and lower ending stocks.